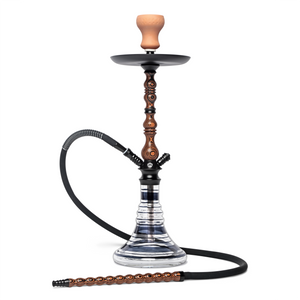 The Amira Midori has a stained wooden exterior and matching washable hose that would make this the center piece of any hobbit's home. The matching striped base is perfect for the modern hookah smoker in your life that likes clean lines and colors. The tray is a painted metal, solid enough to handle fiery natural charcoals.
The Midori is one of Amira's first designs to feature the wooden exterior over the stainless steel interior of the shaft. This is the best of both world, a solid corrosion-proof interior with a modern and less industrial looking vibe to the eye. Like it's sibling, the Midori base features a wide bottom but some of the cleanest lines you'll ever see on a hookah base. 
24" Midori in BYO Color Box.  
BYO Hookah with Click Technology
3 Colors to Choose: Black, Coffee, & Rose
Features:
Natural Wood Shaft with Stainless Steel Tube
Downtube with Diffuser
Aeropsace Grade Aluminum
12" Matching Wooden Hose Handle
Medical-Grade Silicone Hose with Spring Guard
Striped Glass Vase
Click Technology - Locks Hookah Stem to Hookah Vase.  
Includes: 
BYO Heavy Aluminum Tray
BYO Clay Bowl
(2 Hose Capable) Stem
12" Grip Handle Hose with Color Matching Tip

Striped 

Glass Vase
Downstem
Tong