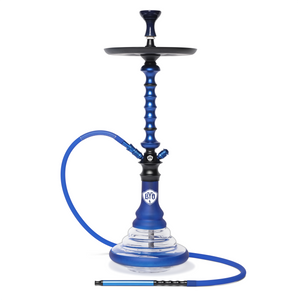 The Amira Kosmos is one of the tallest in their new collection standing 32 inches tall. This large size hookah showcases the new cutting edge of modern hookah design. The hookah stem features a unique design with matching metallic color options. The Kosmos hookah stem is topped with an extra large coal tray. The stem connects the glass base with their threaded click system...so no more rubber grommets with shafts that don't fit the base.
This hookah includes a fully washable silicone hookah hose that can be disassembled at the handle for those times you need a super deep clean. That way, you can wash out any lingering flavors and prevent the last session from carrying over to your next. The Kosmos includes a color matched phunnel bowl too! That means the flavor juices from the shisha are trapped in the bowl for longer lasting flavor and bigger clouds.
Just to top it off, the bottom of the downstem features holes that act as a diffuser and allow for a quieter and smoother inhale.
32" Kosmos in BYO Color Box.  
BYO Hookah with Click Technology
6 Colors to Choose: Black, Blue, Red, Green, Rose Gold & Purple
Features:
Stainless Steel Tube & Downtube with Diffuser
Aeropsace Grade Aluminum over Stainless Steel
LED Compatible Glass Vase (10" Diameter)
11" Aluminum Handle Hose with matte Silicone Hose
Heavy Aluminum 12" Diameter Tray
Click Technology - Locks Hookah Stem to Hookah Vase.  
Includes: 
Heavy Aluminum 12" Diameter Tray
Funnel Hookah Bowl
Colored Aluminum (2 Hose Capable) Stem
11" Aluminum Handle Hose with matte Silicone Hose
LED Compatible Glass Vase (10" Diameter)
Downstem
Tongs
BONUS: BYO Clay Bowl