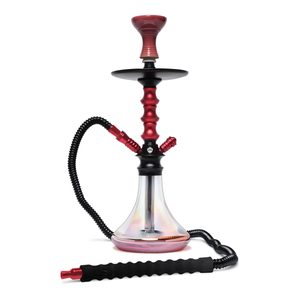 The Amira Nebula has a colored stem with matching washable hose. The heavy duty, yet modern design makes this hookah very desirable. If stability is something you crave, the wide-bottomed base will deliver. At 18", regardless of what setting it's used in, it will work perfectly right next to you on a table or desk top.
The base color options on the Nebula are out of this world. The glass is ionized with color that even makes it look like something you'd see in a galaxy far, far away. The Nebula is equipped with a stainless steel shaft finished in a smooth matte that features their twist-to-lock technology so that you do not have to worry about any sort of base grommet or seal issues.
18" Nebula in BYO Color Box.  
BYO Hookahs with Click Technology
6 Colors to Choose: Black, Blue, Red, Green, Rose Gold & Purple
Features:
Stainless Steel Tube & Downtube with Diffuser
Aerospace Grade Aluminum Stem
Click Technology - Locks Hookah Stem to Hookah Vase
Includes: 
BYO Heavy Aluminum Tray
Funnel Hookah Bowl
Colored Aluminum (2 Hose Capable) Stem
10" Grip Handle Hose with Color Matching Tip
Chameleon Glass Vase
Downstem with Diffuser
Tong
BONUS: BYO Clay Bowl