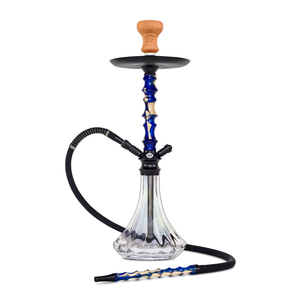 Amira is now producing a new line of hookahs branded as BYO and here we have one of the most unique hookahs I've seen in ages; the Zilla. The 23" Zilla has the classic woodgrain finish that Amira/BYO has popularized only this time the beautiful woodgrain is tastefully swirled with different colored stains to really make it pop! The Zilla comes in four different color options and features a heavy duty wide-bottomed glass base. Each hookah also comes with it's very own matching mouth piece.
The ZIlla has it all. From Amira's innovated woodgrain finishes on the shaft and the hose handles to the locking system that eliminates the need for a base grommet. What really sets the Zilla apart from many previous offerings is the beautiful colors that are swirled into the shaft finish. This gives the Zilla very modern but slick look. The Zilla also comes with a high quality silicone hose and an unglazed clay bowl. 
Stem:
Stainless steel w/ wood exterior
Hose:
Washable hookah hose
Vase Colors: 
Black, Blue, Red, White.
23" Zilla in BYO Color Box.  
BYO Hookah with Click Technology
6 Colors to Choose: Black, Blue, Red, Orange, Green, & White
Features:
Proprietary Resin-Wood™ Shaft
10" Matching 

Resin-Wood™ Hose Handle

Chameleon Glass Vase with Matching Color

Stainless Steel Tube & Downtube with Diffuser
Aerospace Grade Aluminum Hardward
Click Technology - Locks Hookah Stem to Hookah Vase
Includes: 
BYO 

Heavy Aluminum Tray
Funnel Hookah Bowl
Proprietary Resin-Wood™

 (2 Hose Capable) Shaft

10" Matching 

Resin-Wood™ Hose Handle

Medical-Grade 6 ft Silicone Hose with Spring Guard

Chameleon Glass Vase with Matching Color

Downstem with Diffuser
Tongs
BONUS:

 

BYO 

Clay Bowl