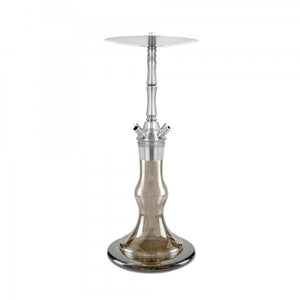 The new AEON Shisha - Edition 4 is the successor to Edition 3 and was developed and continuously tested for over a year. The AEON hookahs are produced in Germany under the highest quality requirements from V2A stainless steel (1.4305 V2A stainless steel from Switzerland) near Stuttgart and then every component of the AEON hookah undergoes another strict quality control in our warehouse. The production of the hookahs in Germany is carried out with the certification ISO 9001 and ISO 14001 and each thread is checked on site for its accuracy of fit. The AEON Shisha bowls are hand-blown by hand and then checked for quality in our warehouse and bonded with a high-quality 2-component adhesive.
How does Edition 4 - Premium differ from other hookahs?
Edition 4 has the patented AEON Purge System (APS) which allows you to vent the smoke from the bowl without removing any balls from the hose end pieces, so that you can get the stale smoke out of the bowl. The APS works via a spring that is pressed down when you blow into your hose, creating a space through which you can vent the smoke from the bowl. You can adjust the APS by turning the blower in or out of the base. If you screw it further into the base, the spring gets more tension and blowing out is more difficult, whereas blowing out is easier with a blow-out device turned far out. For Edition 4, we have also developed a new blow-out valve that guides the smoke upwards along the smoke column. This prevents you from blowing the smoke out of the other hoses when you blow it out, but upwards along the smoke column. This system also works if you attach other columns of smoke to the Edition 4. We also offer other smoke columns that are compatible with Edition 4 and that allow the position of the exhaust valve to be changed. The entire technology of the APS and the blow-out valve is elegantly hidden in the base and is hardly visible from the outside. The base has a 29/2 cut, which means you can customize Edition 4 according to your wishes. For example, other columns of smoke with a 29/2 cut fit easily into the base and you can adapt the look of your shisha at any time. The smoke column that is included with Edition 4, is first inserted into the 29/2 joint of the base and then screwed to the immersion tube with M14x1 thread. Since the smoke column has an 18/8 cut at the top, you can also attach a molasses catcher or other components with an 18/8 cut and adjust the height of Edition 4 according to your wishes. With the base adapter, which can be bought as an accessory, you can also easily attach smoke columns with M16x1 thread to your Edition 4 and thus make your Edition 4 even more individual.
 Scope of delivery of Edition 4 - Premium
- Head adapter with M16x1 thread
- Charcoal plate (hand-ground from V2A stainless steel)
- 18/8 ground joint on M16x1 adapter
- Smoke column below with 29/2 cut below (M14x1 thread inside) and 18/8 cut above
- Smoke column on top with 18/8 cut
- Base with 4 connections including closed chamber and exhaust valve on the smoke column
- 4 x hose end pieces with shortened 18/8 joint including 11mm ball
- Draft reducer (can optionally be used to adjust the draft of a traditional shisha)
- 4 x sleeves including 6mm ball for blowing out
- 4 x patented APS (AEON Purge System) in the base, each consisting of 3 parts: ball seat for 11mm ball, spring and adjustable blow-out device
- Upper immersion tube with M14x1 thread
- Immersion tube below with M14x1 thread (immersion tube length can be adjusted to suit the suit individually)
- Diffuser with M14x1 thread
- Bowl with thread
Dimensions of the hookah:
Height: approx. 53 cm
Weight: 4.20 kg
IMPORTANT NOTE:  The bowls are hand blown. It is therefore possible that small air bubbles can be found in the glass. If you are dissatisfied with your bowl, please contact us. Please note that we can only exchange your bowl if the bowl has not been used and you are responsible for the shipping costs. Please note the cleaning and care instructions and the assembly instructions on www.setup.aeon-shisha.com