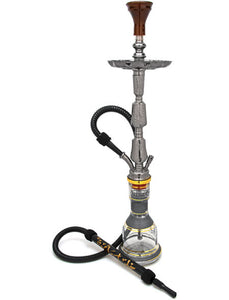 Khalil Mamoon Double Kamanja Hookahs
You will do a double take over these Khalil Mamoon Double Kamanja hookahs! Available in a gold or oxidized variant, these will scream, "My KM is legit!". The solid shaft has two ornamental sections each with intricately etched designs on a gold or multicolored "oxidized" finish. The oxidization process gives the Oxidized Double Kamanja a rustic, antique look.
Hookahs with oxidized finishes are all the rage, and with good reason. This 32" tall hookah pipe is made from stainless-steel with a gold finish that gives it an awesome shine, and accents along the stem from the oxidized accents. The Oxidized Double Kamanja is the perfect addition to any hookah enthusiast's collection.
The high quality stainless-steel used to make this hookah makes it a highly durable piece that, if treated with respect, will live a long life full of contented hookah smokers. The stainless-steel is totally rust and corrosion resistant, and will be more than able to take the nicks and bumps of everyday handling.
At first thought the downstem of the hookah may not seem like such an important component, especially when a hookah looks so attractive, but the downstem really is one of the most important aspects. Khalil Mamoon is known and respected for producing high quality smoke sessions with every hookah, and this is done through their use of medium gauge downstems on nearly every hookah they make. They use this medium gauge to aim for a traditional style smoking experience, which produces great results. Some may find that this classic experience features a slight restriction in the airflow, but this can be easily fixed by adding a diffuser to the end of the downstem. The diffuser creates a super smooth flow with every pull, as well as a whisper quiet smoke session every time.
The downstem is, like the exterior, made from high quality stainless-steel. This means you never have to worry about the downstem rusting or corroding; it should live just as long as the rest of the hookah. Additionally, stainless-steel doesn't retain power shisha flavor profiles - those dreaded ghosting flavors. One quick rinse and the hookah will be ready to go for its next smoke session.
Gold Double Kamanja Specs:
Height: 32"
Shaft: Oxidized
Base: KM base, color/design will vary.

Bowl: Egyptian clay: 
Hose: KM Standard hose