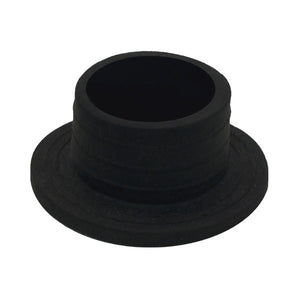 Base grommets ensure a tight seal between the metal hookah shaft and glass base. Grommets come in various thicknesses so it's best to order a handful of various sizes to make sure you have the right sizes when your customers come in looking for replacements to hookahs they bought anywhere and everywhere.
Typically, hookah shafts need only 1 grommet to fit, but when the glass opening is too wide, it's not uncommon to double up the grommets or use a combination of styles to get the fit.
We wish there was a bulletproof chart that guaranteed a fit, or that all hookahs were standardized to remove the guesswork, but that's not the world we live in. That's why we recommend investing in a variety.  Here are some guidelines (not hard rules) for finding the right base grommet.
Large Egyptian and Khalil Mamoon Grommets
- These are essentially the exact same thing.  Large base grommets are for hookahs in the 27" and up size range, with bases that have an opening around 1.75 -2 inches.  For larger openings, we recommend trying to add a Mya Rubber band or 2 on the stem and then pull the Large Egyptian grommet over it to increase the thickness and get a snug fit.
Medium Egyptian Base Grommets
- Fit hookahs from 22-27 inches. Usually with glass bases that are roughly 10-11 inches tall with an opening of 1.5-1.7 inches wide.
Small Egyptian Base Grommets - 
Fit hookahs from 16-22 inches with glass bases measuring 8 inches tall and have an opening of 1.4 inches wide.
Tiny Egyptian Base Grommets - 
For small hookahs under 15 inches. The glass base should measure about 7 inches tall with an opening of 1.25 - 1.3 inches wide.
Mya grommets are made with a softer silicone material which can make them widely compatible, though they tend to be thinner and fit Mya hookahs which tend to be medium in size.
Large Mya Base Grommets 
- These fit most full size Mya Saray hookahs 24 inches and taller.
Small Mya Base Grommets
- These are little silicone sleeves that fit over the glass neck on Mya hookahs such as the QT, Bambino or Econo Gelato.
Mya Rubber Band Grommets
- These can be single or double layer rubber bands and are used to add more thickness to the grommet and get a tighter seal.  These come in handy with any and all hookahs that need a little more bite to create a tight fit.