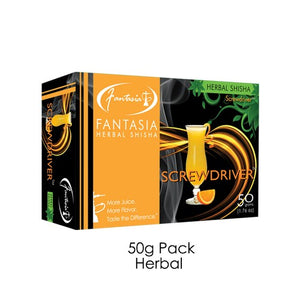 Fantasia Herbal 50g Pack SCREWDRIVER
You wont find it in your toolbox...this Screwdriver is a power packed citrus flavor burst that literally drills into your taste buds. Get hammered...just don't get screwed.
Fantasia Alternative Products are manufactured with only premium ingredients.  Herbal Shisha is used exactly like Hookah Tobacco, except that these products DO NOT contain tobacco or nicotine.  Herbal Shisha is made with a sugar cane based molasses. The signature hookah flavor blends are strategically applied to the cane molasses to emulate the hookah experience.