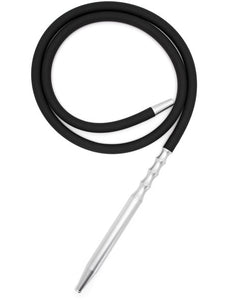 Hoses are such an important part of the hookah smoking experience. Silicone hookah hoses are the most popular on the market today and pretty much an industry standard. These Gladiator hoses are made out of quality silicone with a one-of-a-kind handle that makes for a tremendous grip quality. Wash these with ease to prevent flavor ghosting and get them prepped for a new session.
The Gladiator hose includes a heel spring with every hose. The spring slides over the hose tubing all the way down to the heel (the part that plugs into the hookah).  The spring gives the silicone tubing support and prevents kinking due the hoses weight from its durable yet flexible silicone material.
They're light weight and very flexible, have solid handles, and are a breeze to wash which is wonderful for preventing flavors sticking around in them. This allows you to experience a full-flavored and excellent session every time. The Gladiator is made out of medical grade silicone and stainless steel so you won't have to worry about these getting scratched up or falling apart on you in a few months.
Length: 72 Inches
Hose Material: Surgical Grade Silicone
Handle Material: Anondized Aluminum, ribbed design

Washable: Yes