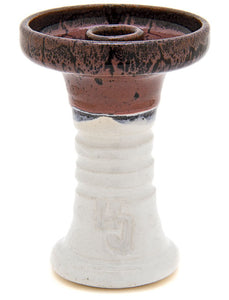 These are 100% Authentic HJ Harmony Hookah Phunnel Bowls, designed for the advanced hookah collector who appreciates the quality and craftsmanship of hand-made American products.  This bowl is wide and deep phunnel style bowl, that uses a circular groove and raised central spire to trap the flavored juices within the tobacco leaves.  This keeps your hookah cleaner and your flavors bold and longer lasting. The hand made designs and unique color finishes make these bowls highly sought after.
The Harmony bowl was released over 4 years ago, and has been a huge success.  Over time, minor tweaks and improvements to sizing, texture and color schemes have created a demand for the original. Hookah pros who finally break their favorite bowl after years, have not been able to find an exact replica until now.
The Retro Harmony bowl is the same height and width as the current edition, so that it compatible with the most popular heat management devices.  That was a must in today's market.  However, the bowl is shallower, so you might consider it more a conservation smoke, while others say the shallower bowl provides more complete vaporization and a higher nicotine smoke.  The inner spire is also about 0.75 inches, compared to the 1 inch spire of the modern Harmony bowl. Keep in mind they are hand made, so the measurements are general estimates and vary from bowl to bowl, that is normal and part of the fun!
The Harmony bowl is an ideal bowl for the Kaloud Lotus heat management system.  Get more flavor for much longer with a more even heat distribution. Most of the users of this bowl will use a dense pack of tobacco, up to 35 grams to fully load this beast, but the thick clouds will smoke for hours.
The Harmony Hookah Bowl measures approximately 4" tall, 3" wide , and is made by artisans with clay in the United States.