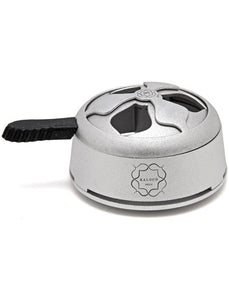 The Kaloud Lotus Plus is a hookah heat management device that was specifically designed to regulate the transfer of heat from charcoal to Shisha. It also works to reduce coal contaminants that pass from charcoal to the hookah tobacco.
**Does not include the Samsaris Vitria hookah bowl**
The Kaloud Lotus Plus prevents a significant amount of ash, ultra-fine particles, and volatile gasses from passing through from the charcoal into the clouds a hookah user inhales, making the clouds smoother, cleaner, and tastier. It also has the added benefit of extending the life of a session, so you and your friends can spend more time bonding and less time fussing with changing heads and managing charcoal.
It is self sustained and requires little coal rotation. Simply place the coals in the Kaloud Lotus and in minutes your patrons are smoking away for hours without you having to constantly come over and re-add coals.
This is an original Kaloud product.