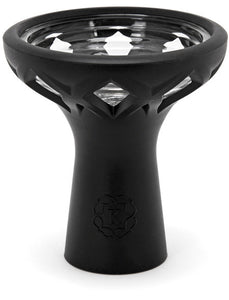 The Kaloud Samsaris Vitria II bowl takes the best features of the original Vitria bowl and improves a few features to improve performance, increase durability and provide you with the best smoke of your life.
The original Kaloud Vitria was the most innovative hookah bowl of the 21st century. Made from space-grade silicon, the Samsaris Vitria II bowl is virtually unbreakable. The silicone is wider to accommodate the larger glass insert, and holds more tobacco for even longer session. With the Kaloud 2, the glass insert has a built in groove to hold the lotus, which prevents the extreme heat from directly touching the silicone and degrading the bowl over time.
The silicon and heavy duty glass can withstand heats of up to 600 degrees (F), and allows for the Samsaris Vitria's unique design, which includes a raised center spire (for trapping flavorful juices) and internal segments. These segments are the perfect way to separate flavor blends and more importantly, they help the shisha tobacco cook more efficiently and evenly.
But here's the best feature of the Samsaris Vitria II: it fits the Kaloud Lotus perfectly.
Lotus sold separately.