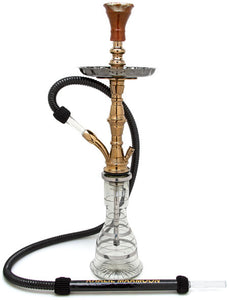 The art of belly-dancing requires balance, poise, elegance, and finesse. Shamadan belly-dancing requires an extreme level of these skills because of the heavy prop placed atop the dancers head. The Khalil Mamoon Tall Oxidized Shamadan hookah may not actually dance, but it does feature balance, poise, elegance and finesse - all highly prized attributes in a hookah pipe. This 27" tall piece features a high level of craftsmanship and detail.
Handmade using high quality stainless-steel, with a beautiful gold and oxidized finish, the Oxidized Shamadan is a pretty good looking hookah. At 27" tall it will stand out in any collection, and will make a great addition. The contrasting colors along the shaft, glimmering gold and dark oxidized, mesh well and make each flared section stand out. The coal tray that comes with each hookah has a beautiful design stamped into it.
The stainless-steel used to make this hookah is a popular metal among hookah makers because of its highly durable nature. This hookah will never suffer from rust or corrosion, and can handle everyday bumps and drops without ruining its functionality. As long as its treated with respect, this hookah will live a long life and produce many great smoke sessions.
The Oxidized Shamadan features a medium gauge stainless-steel downstem, which may not seem like the most important feature at first but it makes all the difference. Khalil Mamoon is widely known and respected for making quality hookahs that give users great smoke sessions. The medium gauge downstem is used specifically to give smokers a more traditional style experience than other manufacturers; this experience is similar to what you might find at a hookah lounge in the streets of Cairo, Egypt. Some people might find the traditional experience features a slight restriction of the airflow, which can easily be fixed by applying a diffuser to the downstem. A
 diffuser
will greatly increase the smoothness of every pull, and will make every smoke session whisper quiet.
The use of stainless-steel for the downstem means that, like the exterior metal, the downstem is completely rust and corrosion proof and should last just as long as the rest of the hookah. Stainless-steel will never retain powerful shisha flavor profiles - those dreaded ghosting flavors that ruin future smoke sessions taste. One quick rinse and this hookah will be ready to go for its next smoke session. This attribute is great for hookah lounge owners who need their hookahs to have quick turnaround times after every use.