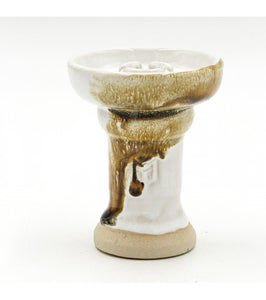 The MIT LUXURY BOWL belongs to the line of special phunnel bowls. This brand of bowls has become a world reference for all bong lovers due to its composition of special muds to withstand high temperatures.
This bowl made for use with either a HMD or foil. It is the perfect flavor for fluff packing or a longer session with some dark leaf.

Capacity - 14g - 16g Shisha Tobacco

Bowl also is ribbed for a tighter fit on your grommet.

Mit Luxury Bowls is a brand that makes handmade hookah bowls in Turkey.
Message From Mit Luxury Bowls; 
"We are using German & American stone clay mud. And our glazes are suitable for food consumption. 
Our firing process consists of two phases. The first firing takes place at 950c and the second firing is between 1240-1280c.
Please note these are hand glazed so will vary in color.