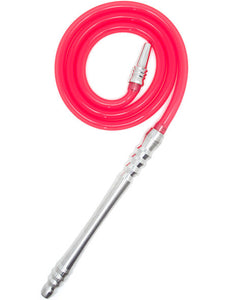 Mya Saray has long been a name that is synonymous with quality materials and percision manufacturing. These guys don't mess around! Their hose collection includes other favorites and recent releases such as the Mya Aluminum Hose, The Mya Rubber Handle Hose, and the Mya Long Handle Hose. Durable, long lasting, and far reaching, the Mya Silicone Hose is a solid hookah hose that is perfect for use in hookah lounges and in the home!
The silicone is flexible, able to bend with ease to make group smoke sessions a breeze. This can prevent hookahs from being pulled over and breaking and making a huge mess. The long handle is made of anodized aluminum, which makes it scratch proof and rust-proof so your equipment will look like new longer. No more stained and shabby hookah hoses that give your lounge a grungy feel. The handle features ridges at the top and bottom to help with grip. Plus, this silicone hose is also 100 percent washable! One quick rinse and you'll never have to worry about ghosting flavors in the hose, ever. This will give your customers better tasting flavors and you won't have to replace your hoses as often. There is no inner lining or metal coil in the hose to rust or flake off which prevents dusty particles and debris coming through the hose. Stock on up the Mya Silicone Hose, and put off worrying about hookah hoses for a long, long time.
Made using surgical grade silicone, and measuring at
72" long
, this hose can take the heat, literally. This silicone hose can stand heats of up to
600 degrees Fahrenheit
(but if that's how hot it is, you may have bigger problems). Its long handle is made of
anodized aluminum
, which makes it scratch proof and rust-proof.
Length: 72 Inches
Hose Material: Surgical Grade Silicone
Handle Material: Anondized Aluminum
Heat Tolerance: Up to 600 degrees Fahrenheit
Washable: Yes