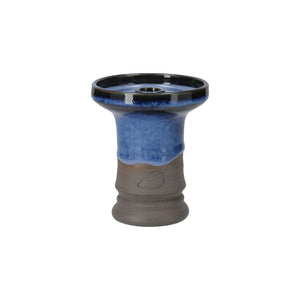 Made in Bavaria - All the bowls are lovingly handcrafted in Leutershausen, Bavaria. Every little detail is carefully crafted by the experienced craftsmen.
An ideal bowl for the AO HMD and the Kaloud Lotus I - This bowl is the ideal choice for any hookah enthusiast.
The glazed tobacco deposit offers an unbeatable solution to prevent molasses from penetrating the bowl, thus also preventing unwanted bleeding of the bowl.
The Bowl impresses with its phunnel construction, which ensures a clean smoke column/base. This is because this method retains the molasses in the bowl, which leads to a particularly pleasant smoking experience.
IMMEDIATE HOOKAH ENJOYMENT - The perfect smoking characteristics of the bowl are ensured by a combination of years of hookah know-how and the talent of the potter.
Sheeshaya has launched a fascinating variety of colours for the popular Hyphen with the introduction of Generation 2. Through a close cooperation of experienced hookah experts and a first-class ceramic artist, this excellent bowl could be developed and manufactured. The Sheeshaya Hyphen tobacco bowl stands out with its exceptional quality and precise fit for the AO HMD attachment. The focus was intensively placed on the experience of an incomparable smoking pleasure and perfected through years of professional experience and attention to detail. Thus, the Sheeshaya Hyphen tobacco bowl is unique in its kind and a must-have for every hookah lover.
The following HMD's can be used with the Sheeshaya Hyphen bowl:
AO HMD 912,
Kaloud Lotus I+
Dimensions:
Overall height: approx. 9.8 cm
Outer diameter tobacco depot: approx. 7.7 cm
Inner diameter tobacco depot: approx. 6.9 cm
Depth of tobacco depot: approx. 0.8 cm
Note
As clay is a natural product, there may be deviations in the grain and colour compared to the photo. In addition, the dimensions given may also differ from the actual dimensions. However, this is not a reason for complaint.
| | |
| --- | --- |
| Color: | Blue, Brown |
| Material: | Clay |
| Product type: | Bowl |
| Bowl type: | Phunnel bowl |
| Suitable for: | Aluminium foil, HMD |