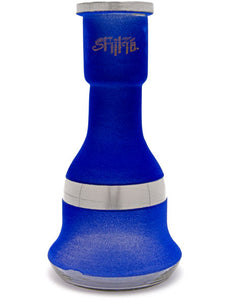 Shika Replacement Bases
Shika hookahs are some of the most solid and heavy hookahs on the market. In the unfortunate event that a customer knocks one over in your lounge or breaks the base after getting one home, you've got the option of going with a real-deal Shika base. Shika bases are handcrafted of very thick glass and made to help stabilize the monster shafts that they make.
Velvet Bases
New from Shika is the Velvet line of bases! Available in an array of colors and gold or silver versions, the Velvet bases have a high quality textured paint that kind of resembles velvet when you touch it. These bases will make a fantastic replacement for any larger Egyptian style hookah and can really elevate things in your lounge fleet.