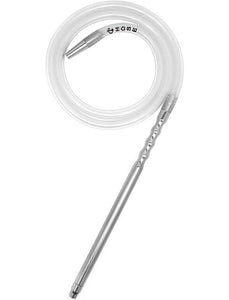 The Aluminum Dream Hose is a modern advancement in the world of hookah hoses, utilizes space age aluminum technology in tandem with surgical-grade tubing to form one of the most durable, Ghosting-resistant hoses ever seen.
The super-durable tubing materials will never kink or crease, and the hoses are 100% washable. Every single thing you could possibly desire for your hose to be - this is it.
The Aluminum D-Hose version features an even longer anodized aluminum handle than that of its glass counterpart, with a total length of 76". the Aluminum D-Hose features anodized aluminum hose tips, and all parts of the D-hose are dishwasher safe.
Laboratory-grade aluminum handle
0.8 mm medical-grade tubing
Dishwasher safe