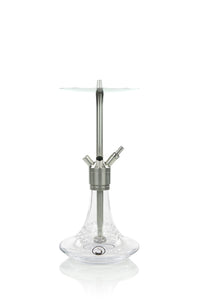 The Steamulation Classic Platinum Crystal impresses with plain elegance and simplicity. Of course non of our customers need to miss out on the benefits, coming from our unique technological innovations like the Advanced Closed Chamber System, the SteamClick 360 System and the Perfect Airflow Technology.
To further underline the high quality of Steamulation hookah's, all of the metal pieces are manufactured in one of our two manufacturers based in Germany.
Our Steamulation Classic Platinum Crystal impresses with elegance and simplicity. It combines slightly reduced size with the unique benefits stemming from our innovative technologies: The Steamulation Classic Platinum is equipped with the one-second closing system, the SteamClick 360, including the integrated valve technology, the Advanced Closed Chamber System. Furthermore, it is conceptualized in an airflow-optimizing way to guarantee the best smoking experience. With respect to its design, the Classic Platinum features the classiness that our brand stands for. The classy design is highlighted by a "Crystal" pattern on the vase and a shiny platinum logo branded into it. Dive into the world of Steamulation – with the Steamulation Classic Series!
Optionally you can attatch a molasses catcher on top of the 18,8 Connector of the smoke column.
Every waterpipe has its own serial number.
Vase color: Clear Crystal
Height: 52 cm
Weight: 4,8 kg
Vase diameter: 24 cm
Removeable Diffusor
Recommended filling capacity: 1.2 – 1.4 Liter